Lightweight, delicate and pre-shaped, it is easy to use and covers the entire surface of the face.
Used with Rich Cream Base, it acts as a true antioxidant barrier that facilitates a complete and rapid absorption of the nourishing, moisturising and lifting active ingredients.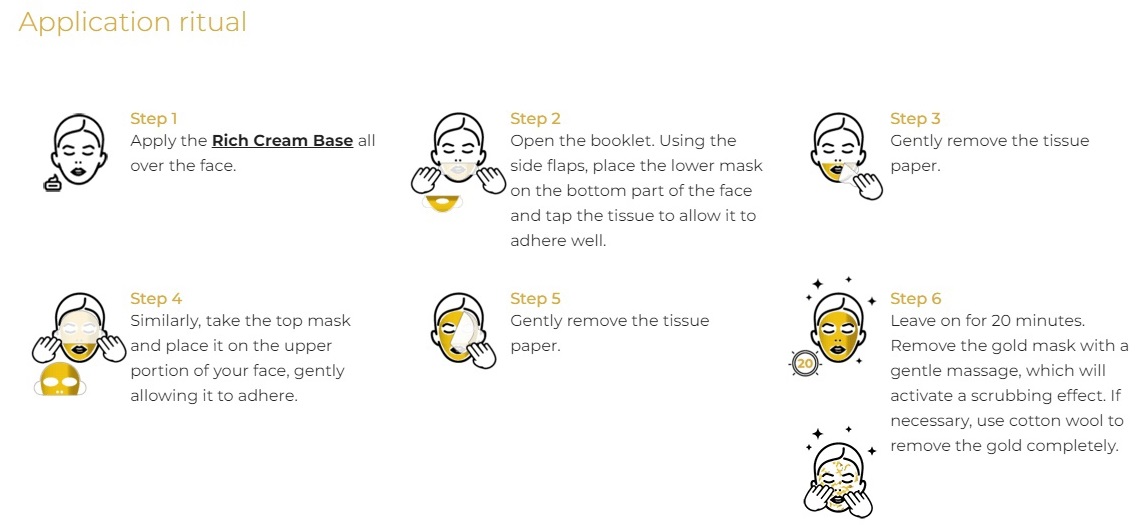 How to apply the 24 karat gold mask to the face?
Follow these few simple steps: apply the treatment base (cream, serum or other product), place 24k gold face mask sheets on the face, ensuring good adhesion by pressing lightly on the edges. Peel off the tissue paper and leave the mask on for 20 minutes. Gently massage the skin to remove the gold leaf.
What are the benefits of the pure gold mask?
Antioxidant action: promotes the complete and rapid absorption of creams and serums;
Exfoliating properties: through the massage of the gold on the skin;
Radiant effect: leaves skin looking brighter and re-energized
---
Made in Italy
Beauty Gold is the Giusto Manetti Battiloro (manufacturer of gold leaf in Florence-Italy since 1600) brand dedicated to the production and marketing of 24kt and 23kt cosmetic gold. Thanks to consistent investments in research and development, its wide range of gold leaf products not only anticipates but also best interprets the trends of the beauty world by offering innovative and exclusive solutions.