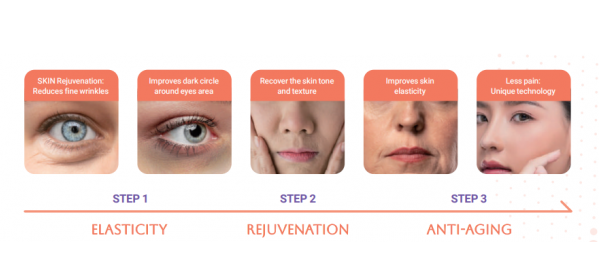 MAIN ADVANTAGES OF EYEBELLA
skin rejuvenation: reduces fine wrinkles
improves dark circle
recover the skin tone and texture
Improves skin elasticity
unique technology makes filler painless
HOW TO USE EYEBELLA PN REJUVENATION:
Doctors recommend to have a course of 2-3 applications to get result lasting 8-12 months.
The interval time is 3-4 weeks.
TO IMPROVE DARK CIRCLE:
Use 30g 13mm needle or Multi needle / Mesoneedle
Point 6-10 spots under eye
Inject the same amount (1mL for 1 eye/ 2mL per 1 session)
Dark circles may require more amount of the product.
TO REJUVENATE SKIN, ADD ELASTICITY AND IMPROVING WHOLE FACE SKIN TONE AND TEXTURE:
Use 33G needle or Multi needle / Mesotherapy
Inject 2 mL for the whole face