Professional acquaintance with new products from Purles! Free master class in Tallinn.
December 8, 2019 @ 10:00

-

16:00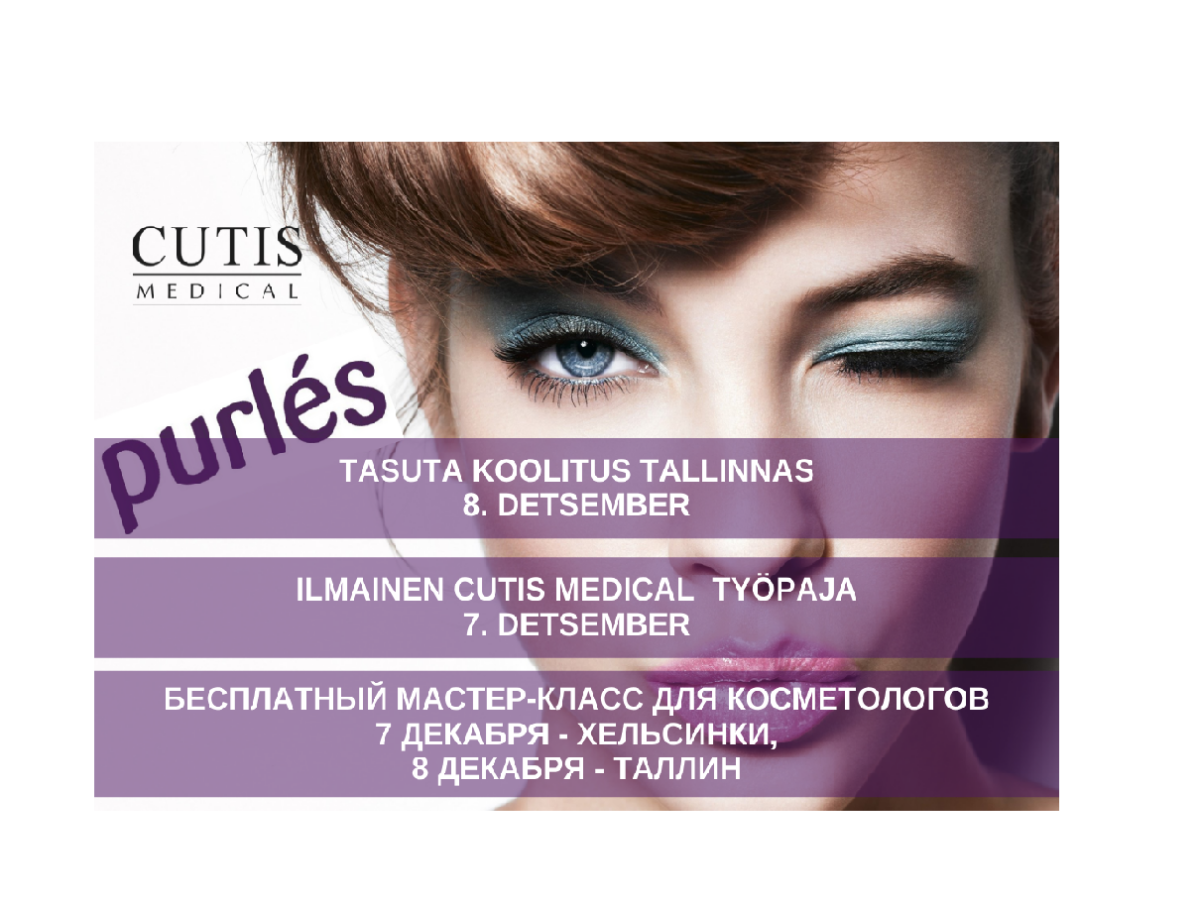 Training, raffles, 30% discount on products! Don't miss it!
CUTIS MEDICAL INVITES YOU TO FREE PURLES WORKSHOP! THE PEELING SEASON IS DECLARED OPEN!
Good day!
We invite you to master class dedicated to the novelties of the French brand – Purlés.
Event are held by Cutis Medical together with Purlés in early December in Tallinn (Estonia)
The peeling season has started – so we will pay special attention to it!
Join us!
Participation in the master class is a unique opportunity to…
🌺 prepare for the season of peelings,
🌺 learn first-hand to work with the latest Purlés products in the market,
🌺 try treatments on yourselves (no kidding!),
🌺 participate in raffles – and win!
🌺 buy the Purles products with significant discounts – up to 30%!
🌺 each participant will receive samples of almost the entire range of Purles – for free!
In addition,
🌺 you will be granted corporate diplomas of participation
🌺 the latest Purles catalogues
🌺 useful marketing gifts
You will get acquainted with exclusive methods of skin care of the face and body, learn effective salon procedures to restore beauty and correct imperfections.
And all these things – for free!
An intensive program, communication with experts and innovative cosmetics of impeccable quality!
What could be better?
Only positive feedback from your customers who have experienced the stunning effect of Purlés on themselves!
Don't miss the chance!
THE PROGRAM OF THE MASTER CLASS
10:00 – 12:00
ACID PEELS & COMBINING OF ACID PEELS
12:00 – 12:30
T-PEEL EXFOLIATION + PRACTICE
12:30 – 13:00
LUNCH
13:00 – 14:30
DNA PROTECTION EXPERT + PRACTICE
14:30 – 16:00
LIPOLYTIC BODY THERAPY + PRACTICE
DATE OF THE EVENT
Tallinn (Estonia) – December 8
VENUE
JUUKSURITE JA KOSMEETIKU PRAKTIKAKESKUS
ADDRESS
LOOTSI 10, Tallinn
To register, please send to mail info@cutismedical.com your name, surname and your city.
See you soon!
Your Cutis Medical
These are the prizes we will raffle at our events!
Excellent Purles products and elegant cosmetic bags!
Everything is for you.
Register – come – and win!
We will be raffling off products from the new a-Peel exfoliation facial peeling line!